Summer Freeman returns to the waterside village of Willowbeck to rescue the Canal Boat Café, her late mother's picturesque narrowboat, which has run into choppy waters. A family friend, Valerie, has been trying to keep things afloat, but the coffee machine is jammed, the cake offerings are paltry, and not all of the locals want to see the café succeed.
Help comes from the boat next door, in the shape of handsome wildlife photographer, Mason and his naughty Border Terrier, who are showing more than a passing interest in Summer and her adorable Bichon Frise, Latte. But is Mason being honest about himself? Or does he have something to hide?
As her life and the community of Willowbeck begin to entwine, Summer finds herself setting sail on a new adventure. Will the anchor of a steady life on land be too strong, or can Summer learn to cut loose and embrace life afloat?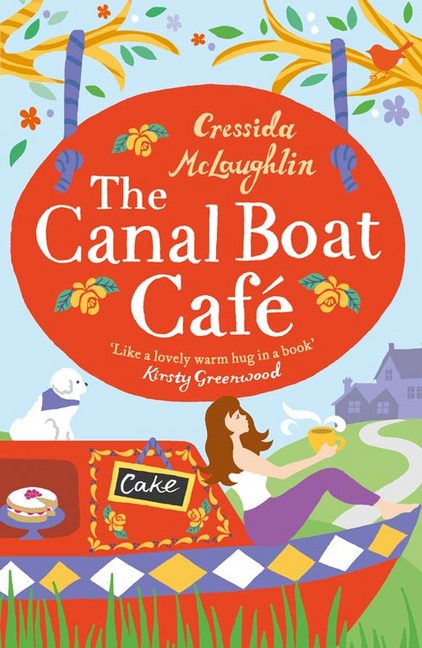 Review: This is a charming short story from Cressida McLaughlin, author of the Primrose Terrace series of ebooks. All Aboard is the first in a succession of tales about the Canal Boat Cafe: as the name suggests, a cafe contained within a narrow boat.

The central character is Summer Freeman, whose mother established the cafe and ran it until her death. We meet Summer as she is returning to the boat for the first time since her mother's death, and after a period of 8 months. She is struggling with the decision of whether to restore the cafe to its former glory and run it as a business, or stick with her sign-writing career. There is encouragement from her mum's old friend and fortune teller, Valerie, and her own best friend, Harry, but opposition from some of the locals. There is also the hope of some romance for Summer in the shape of Mason, a wildlife photographer who lives in the boat moored next to hers with his lively terrier dog.

I loved the idea of this 'floating cafe' and life on the canal. The descriptions were so good that you could almost smell the coffee, taste the lovely cakes and scones that Summer makes on board, even though she claims to be no good at baking, and even feel the boat bob gently up and down. Fortunately, there seems to be a plentiful supply of passers by on the towpath and passing boats to keep the cafe busy. I also liked the fact that events that have happened in Summer's past are hinted at from the beginning of the story and begin to unfold as the tale progresses.

Although this is a short story, it is not without depth and substance. Cressida has done a good job of packing a lot into the 6 chapters and whetting the appetite for more. It ends on a cliff hanger, and I, for one, can't wait for the next instalment to be published.