Self-proclaimed fat girl Willowdean Dickson (dubbed "Dumplin'" by her former beauty queen mom) has always been at home in her own skin. Her thoughts on having the ultimate bikini body? Put a bikini on your body. With her all-American beauty best friend, Ellen, by her side, things have always worked…until Will takes a job at Harpy's, the local fast-food joint. There she meets Private School Bo, a hot former jock. Will isn't surprised to find herself attracted to Bo. But she is surprised when he seems to like her back.

Instead of finding new heights of self-assurance in her relationship with Bo, Will starts to doubt herself. So she sets out to take back her confidence by doing the most horrifying thing she can imagine: entering the Miss Clover City beauty pageant—along with several other unlikely candidates—to show the world that she deserves to be up there as much as any twiggy girl does. Along the way, she'll shock the hell out of Clover City—and maybe herself most of all.

With starry Texas nights, red candy suckers, Dolly Parton songs, and a wildly unforgettable heroine—Dumplin' is guaranteed to steal your heart.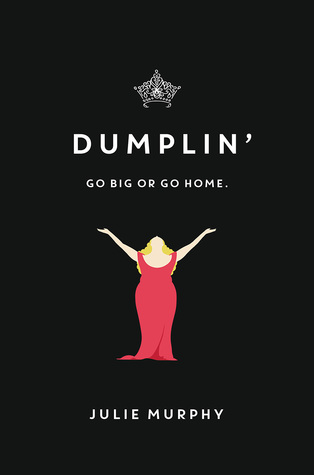 Review: I absolutely loved this book, I have no idea why I waited so long to read it! I listened to this book on audiobook but I also have a physical copy of this so I was able to dip into that as well. I just loved the storyline, the characters and the general feel of this book.
I really know nothing about beauty pageants apart from what I have seen on films and so I was hoping this plot of this book wouldn't focus on that too much. Whilst the beauty [pageant is a strong feature of this book because that is what the whole community is gearing up for, it is not the main plot of the book. This book is very much a character driven book, it is all about the fabulous Dumplin' and there are also wonderful undertones of inclusion, body positivity, diversity and acceptance which made it the wonderful, well-rounded read that it is!
Dumplin' is great as a main character. She is easy to like and get along with and also very easy to relate to an empathise with. She is living in a town that values this beauty pageant and so she is having to deal with the fact that people are so focused on beauty and perfection when she is a girl of more substance. But she is plus-sized and proud. She appears on the surface, not to give a toss about what others think of her, she doesn't want to loose weight and yet when a boy starts showing interest in her, she can't understand why!
I loved the romance in this book, of Dumplin' trying to cope with her first forays into the world of dating, of course nothing runs smoothly, I felt sympathy for her in certain parts of this particular storyline, but I also laughed at the mishaps that she got herself into-this was incredibly well-rounded. The other aspect I need to cover of course is the diversity of the characters. We have characters who are not body confident despite conforming to what society deems as the norm, we have dumplin' who is plus size, we have people with disability and all of them pulling together with incredible strength to fight against this idea of what a beauty pageant is and the way society and sometimes their friends and families, expect them to behave!
I loved this read, I do think there is something for everyone in here. I really recommend listening to the audiobook because the narrator has the accents down to a tea and that really brought it alive for me!
To get your copy now, just click
here
!